A Community Benefit Ministry of Mercy Health
Community Spotlight:
Meet Luke Reynolds, a passionate leader dedicated to improving health care for seniors.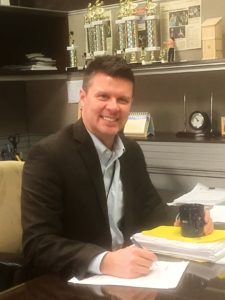 Luke Reynolds is Executive Director of LifeCircles Program of All-Inclusive Care for the Elderly (PACE) and Vice President of PACE for Porter Hills. LifeCircles serves older adults who qualify for nursing home placement but choose to remain living in their own homes. Through a highly functioning interdisciplinary team of geriatric professionals, the organization provides a full array of primary care, specialty care, and all long-term services and supports. Services include home health and personal care; an adult day center with a medical clinic; recreational, nursing, nutritional, rehabilitative, pharmaceutical, social, and spiritual supports; respite options; and medical transportation. This well-coordinated and fully integrated model of care allows older adults to thrive in their home and community and supports families and caregivers as they balance the demands of work, life, and caregiving.
Luke started his career as clinical social worker within the Veteran's Administration Medical Center in Detroit, Michigan. It was during this time, as a home-based primary care social worker and later as a social worker in both inpatient and outpatient settings, that he developed a fondness for working with older adults. In addition to his early health care experiences with veterans, Luke has served in a variety of direct service and leadership positions in the areas of behavioral health, managed care, and not-for-profit human services. Prior to joining LifeCircles, Luke managed the supports coordination division of Healthwest (formerly CMHS of Muskegon County) where he oversaw and directed the community's plan for deinstitutionalization of adults with developmental disabilities.
Luke joined LifeCircles in 2012 as the Center Operations Manager and was named executive director in 2014. Under his leadership, LifeCircles has grown from a one-site PACE with a capacity of serving 225 older adults to a 3-county, two campus PACE organization with a capacity to serve 525 older adults. LifeCircles PACE is located at Tanglewood Park in Muskegon and at US 31 and James St. in Holland Township.
Luke currently serves as the board chair for PACE Association of Michigan, Chair of Charted Healthcare Planning Coalition, and is an advisory board member of The Health Project in Muskegon.
Charted Healthcare Planning Coalition is comprised of several impassioned community representatives from health and medical organizations, hospice, human service agencies, and long-term care. The coalition's aim is to raise community awareness of the importance of health care planning, create opportunities for adults to engage in meaningful conversations about their choices and preferences, and ensure that written plans are developed and followed by family members and health care professionals. Reynolds says, "To often, family members are left to make heart wrenching decisions for loved ones without truly knowing what they want. In the event Grandma is not able to communicate her choices, family members are forced to decide what they think she would want to do. This can cause much pain in families, especially when they differ in their opinions."
Reynolds continues: "Wouldn't it be wonderful if every person had important conversations with their loved ones about what matters most to them and what they would like done, or not done, on their behalf? A written plan takes all of the fear and guess work out of the equation. Having these conversations and documenting a plan based on the conversations is what Charted is all about. There are certified professionals along the lakeshore who facilitate advance care planning conversations and walk you through the process of developing a plan. And it's free."