Have you run out of ideas of things to do with your loved one living with dementia? Below is a quick list of ideas to refuel your creativity. 
Remember that you should match activities with someone's abilities so that they can feel successful. It should be just right – not too hard, not too easy. Not all activities are appropriate for every stage of dementia or every unique individual. The activities listed below can be adjusted in difficulty or ease to be enjoyed by your loved one. Be creative and live in the moment – it is more important to have a positive experience than to "accomplish something". LifeCircles PACE which serves Muskegon, Ottawa, and portions of Allegan County is eager to share our wealth of knowledge dementia care knowledge with you.
Music
Play popular music from your loved ones teens and twenties era – this never fails to please. Often someone remembers classic hits from this time period. Find out more information on the importance of music for adults living with memory impairment at Music and Memory. Also take a moment to see this trailer for "Alive Inside".  It is really moving.
Fiddle box
Collect items according to his/her previous profession or occupation. Look for things that someone can explore with their senses. Place items in a box and present it to be felt, touched or explored. Sit with the person and reminisce about different objects or memories from the objects.
Baking
Assist your loved one in making a batch of cookies. Have them assist with pouring and stirring if able. Engage the senses – ask them to smell the vanilla, feel the grit of the sugar. Appreciate their help. If appropriate some people with earlier stage dementia can still bake with supervision – adjust your support as needed. Some individuals have found pleasure in making e dog biscuits to donate to local shelters. This may provide them with great meaning. A basic biscuit recipe can be found here.
Prayers and hymns
If faith is an important part of your loved ones life, recite prayers together, sing familiar hymns or gospels. Common prayers and hymns will often stay with someone long after other memories have faded.
Deck of cards
Give your loved one a deck of cards, and ask them to be separated into suits: spades, hearts, diamond and clubs. All other cards should be removed from pack. Or "accidentally spill" the cards onto the table, and ask for their help to pick up 52. Or, if appropriate play a simple game like gin rummy that involves matching.
Whack a balloon
Purchase a pool noodle (those long foam sticks that float in water). Often, you can purchase these at your local dollar store. Blow up a few balloons, and use the noodle as your bat or stick to hit and tap the balloons. Make sure you do this in a safe space, and remember your loved one can be seated or standing depending on their abilities and strengths.
Gardening
Caring for things helps provide meaning to our lives. Help someone garden outdoors. If this is not an option, help someone care for indoor potted plants. Cue, encourage or assist them in potting indoor plants. Forcing bulbs is also an option. If he or she enjoyed growing vegetables, plant a small tomato plant and put in the window sill. The plant will have a noticeable smell which might bring up some memories for your loved one. Click here to learn more.
Cutting coupons
Grab a newspaper and a pair of scissors (you can use children's safety scissors if needed). Make up a scenario about the need for the coupons. Let your loved one know that either you will use them, or that you will share them with a church that shares them with those who need them. Through the process share with your loved one how helpful they are being, or how much it will mean to others.
Pet therapy
If your loved one enjoys animals – find a friend, neighbor or family member who has a friendly dog or cat. Visit with the animal, pet the animal, play with the animal. The attention of an animal can calm nerves and relax someone. Hasbro has recently come out with a robotic cat that has similar effects on some older adults living with dementia.
Folding warm towels
If your loved one enjoyed doing housework in the past, or feels like they'd like to contribute more – ask them to help you fold towels or washcloths. Gear the task to their needs – help them sit at the kitchen table, and put out a small pile of freshly washed and dried washcloths or towels in front of them. Most people will retain how to fold the towels for many years through the dementia process. As with any of these suggestions – try it to see if your loved one enjoys it. Not all suggestions will work for everyone.
Making connections
Put clean PVC pipes and different connectors/cuffs from the hardware store into an old tool box. Ask the person to work on the pipes, or to connect the pipes. Provide assistance and encouragement as needed.
Fabric box
Provide a large cardboard box with dozens of pieces of assorted fabric inside it; silk, lace, felt, velvet, acrylic and wool. Encourage them to touch, feel, fold and discuss.
Service projects
Our need to feel useful does not end when we are diagnosed with dementia. Can your loved one sew, crochet or knit? Even if they cannot make the elaborate things they used to, they might be able to crochet edging around a blanket, or knit a simple hat for babies at the hospital. Can they sew buttons?  Could they tie fabric together to make a prayer shawl or comfort blanket? If your loved one can't complete projects such as these, but enjoys working with fabric or yarn, have them roll a ball of yarn, or sort fabric squares. Thank them for helping you, or whatever group you may be sharing these things with.
Beach ball
Buy a large beach ball and play toss. You can also roll or kick the ball from a seated or standing position, depending on person's abilities/strength.
Shopping lists
If your loved one enjoys shopping, sit with a magazine or a grocery store add and make a list with them of things they or you, might need. Make this more realistic, by saying "we are going to make hamburgers tonight for dinner – will you help me make up the grocery list?" You can also say, something like – "I have a party to go to soon, I love your taste, will you help me pick out a nice outfit out of this catalog"?
Get a fish bowl or visit an aquarium 
Fish tanks provide visual stimulation, and can have a soothing effect on people. They also make for good conversation starters. Share some "FISH TALES".
Sorting, paring or matching
Everyone likes to be helpful. Ask your loved one to sort through a container of buttons, nuts and bolts, various coins, different colored socks, or almost anything else. Pay attention to ensure that whatever you ask your loved one to sort is safe for them – this will look different as the disease progresses. Example – you would avoid giving a container of small buttons to someone who puts small things in their mouth – larger objects like socks might be a better alternative.
People watching
If your loved one doesn't mind being in busier areas, take them to a local park, sit on a bench with a view, and talk about the people and things you see. Discuss the fun people are having, the clothes they are wearing, the weather, or anything that catches your eye.
Pom-Poms
Make pom-poms. You can use yarn or old cut up tee shirt/fabric to make pom-poms of different colors. Ask your loved one to sort colored pom-poms. Provide containers of the same color so they can match the colors to the container. For added fun (if appropriate), set up the containers so he/she could toss the pom-poms into the containers (think Bozo Buckets).
Coloring
Coloring isn't just for children. Many studies have shown that adult coloring is good for the brain and can be relaxing. You can print adult coloring pages from the internet – look at places like pinterest. Use a set of colored pencils if possible – so that the activity feels more adult.
Playing an instrument
Purchase a pair of harmonicas, recorders, maracas, or tambourines for you and your loved one. Put on some fun music, and play along. Be sure to enjoy all the fun things that happen after this.
Activities relating to the individual's former life.
For instance, a carpenter may enjoy sanding a nice piece of wood, a post office worker may enjoy stamping envelopes, a secretary may enjoy filing papers into an expandable filer. Tailor your activity to your loved ones interests, abilities and safety awareness at the time.
Reminiscing
Long term memory can be retained by people living with dementia even as the illness progresses. Flip through an old photo album – point out interesting outfits, funny moments etc. Talk about what you see. You don't have to ask about that specific moment – just say things like "wow – she is sure having fun".
Dancing
Put on some toe tapping music, and two step – or whatever other kind of dance was popular in your loved one's heyday. Music really moves the soul, and can move our feet. If your loved one can't physically dance any longer sway in your seats together, tap your toes or hands. Waving colored scarves through the air to music is also fun. Just move however with them, however they can.
Sensory box
Find items that stimulate different senses, place them in box or basket. Flashlights, velvet fabric, lavender sachets, fuzzy pipe cleaners, bells, different sized magnets, seashells, clean feathers, etc – anything you can see, touch, smell, hear would be a good place to start. Sensory games or building blocks are also great tools to have around the house. For example check out these "playableArt Balls", or "Squigz". Try to avoid anything that is too childlike, but still involves the senses.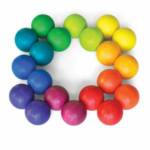 Cookie or cupcake decorating
Buy a pack of 6 pre-made cupcakes or cookies. Make or buy frosting in two colors and put into large ziplock bags. Seal the bags and snip a corners off of them. Assist to frost one or two cupcakes until your loved one feels confident enough to try it on their own. Alternatively, use a plastic spatula to spread the frosting. Don't forget the sprinkles!
Painting
Watercolors are a great tool. Assist your loved one in setting up a painting work station, which could include a set of non-toxic water colors with water poured into each color on the palette, a paint brush, and heavy paper. Depending on your loved one's disease you will modify your approach: you may need to give them ideas, start painting on the paper first, or make a design on the paper for them to work with. Have you heard of "Buddha Boards"? They are special boards that you paint on with water. After a short period of time the board dries and the image fades away. Most book stores carry them, or look for them online. Remember – it is about the process of doing something pleasurable, not about the end result. If your loved one is tired of the project, go ahead and move on to something else.
Helping with dinner
Does your loved one like to help? Think of small steps they could help with – could they snap green beans? Could they set the table? Wash the dishes? Wipe the table off? Almost anything could be broken down into a simple task that they could assist with. Even if it is faster for you to do something yourself, it is important that your loved one have the opportunity to participate at their level. Keep in mind, not all people will find this type of work satisfying.
Nature watching
Set up a bird feeder/bird bath/humming bird feeder in front of an easily accessible window for your loved one. Spend time looking out the window together and discussing what creatures you see outside.
Untying knots
Buy a medium rope and tie a few simple knots. Ask your loved one to 'help' you untie the knots. Make the knots more difficult if needed.
Need more ideas? Would you like your loved one to join us at LifeCircles to enjoy even more enriching experiences? Please contact us at either of our sites: for the greater Muskegon area – 231-733-8655 or for the greater Holland area – 616-582-3114.
Save
SaveLast Updated on September 28, 2021