Do you know anyone who has received in-home rehab therapy from a physical therapist or occupational therapist? Usually these services are provided through a skilled home health agency. You probably already know that enhancing one's physical strength and agility can help maintain or increase independence. Here are a few other things that in-home therapy can assist with:
Reduced risk of serious injury from falls
Lower pain ratings, which can lead to less use of pain medication
Promotes independence, and lessens strain on caregivers
Increased movement can have a positive impact on mental health
Reduced risk of ER and hospital admissions/re-admissions
Put simply: in-home therapy can be a life line for seniors who are struggling to maintain independence in their homes. Unfortunately, in-home therapies are often time limited to 8 weeks or less. Even when older adults excel during this period, they may have declines after the therapists discharge due to Medicare, Medicare Advantage Plan, Medicaid or other insurance coverage. 
Allow us to Introduce You to the In-Home Therapy Cycle
Many in the medical field know this cycle all too well. If you aren't familiar – continue reading.
A person experiences a significant health event or has a gradual decline in physical independence.
A medical provider is concerned and writes a prescription for skilled rehab therapies to help someone gain strength or reduce pain.
A skilled medical care team starts to provide in home therapies.
The individual works several times each week with a therapist on goals at home to enhance mobility.
The individual makes physical gains and improvements with regular therapy.
Home based therapy wraps up services and discharges because goals are being met, or because insurance coverage has ended.
Therapist leaves individual with an ongoing Home Exercise Plan or HEP to do independently to maintain strength.
It may be difficult to maintain exercise plan without the encouragement and problem solving support of a therapist.
Individual slows down activity, and starts to physically decline again.
Decline continues.
A new health event, fall or physical decline leads to a new referral for in-home skilled therapy.
Cycle begins again.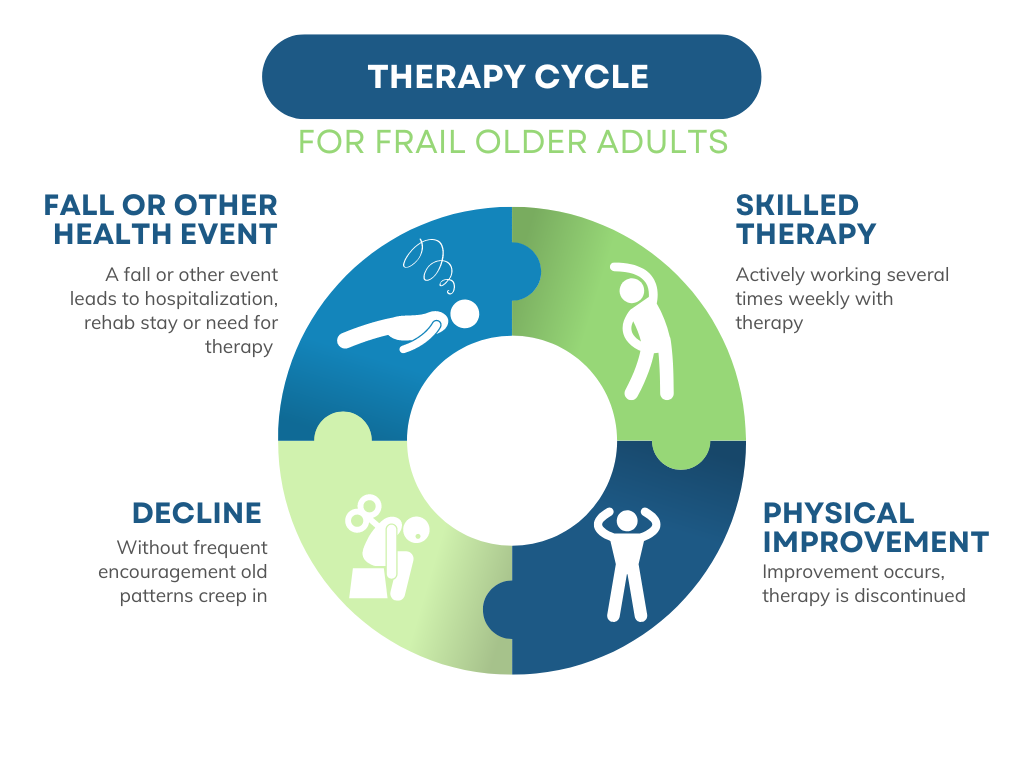 LifeCircles PACE Helps People Break Through the Therapy Cycle
You may be wondering, If therapy is good, why is this cycle bad? Anyone who has struggled with starting a new healthy habit can tell you, if you feel like you've failed over and over, you may just give up. If someone in this situation doesn't break through this cycle, they may cycle toward no longer living independently in the community. They may cycle right into the hospital or into a nursing home.
PACE's all-inclusive health care model is resourced differently than fee for service Medicare and Medicare Advantage plans. At LifeCircles we don't have therapy maximums. We are able to provide health care that makes sense. Rather than having to end helpful therapies at 4-8 weeks, our team often continues to provide ongoing therapies to participants. This can continue for as long as the individual is benefiting from the service. We believe that prevention is worth a pound of cure.
Our therapy team provides individual sessions in home, in our therapy gyms, and group sessions at our day centers. Just the right amount of support and encouragement can be the difference between slow and steady decline, and maintaining or enhancing independence. At LifeCircles we believe that the individual has the best quality of life when they are able to access and enjoy their community. This means that our physical therapy team can provide services even while the individual enjoys outings in the community. Medicare requires individuals who use in-home skilled therapies to maintain a "home-bound" status throughout treatment.
Want to know more about the skilled rehab therapies that LifeCircles PACE provides West Michigan? Give us a call at 616-347-3477, we'd be glad to chat with you! If you are looking for a few simple exercises to keep yourself from getting into this cycle, check out these videos from our therapy team. Want to know more about Medicare's in-home care coverages check out this official government booklet.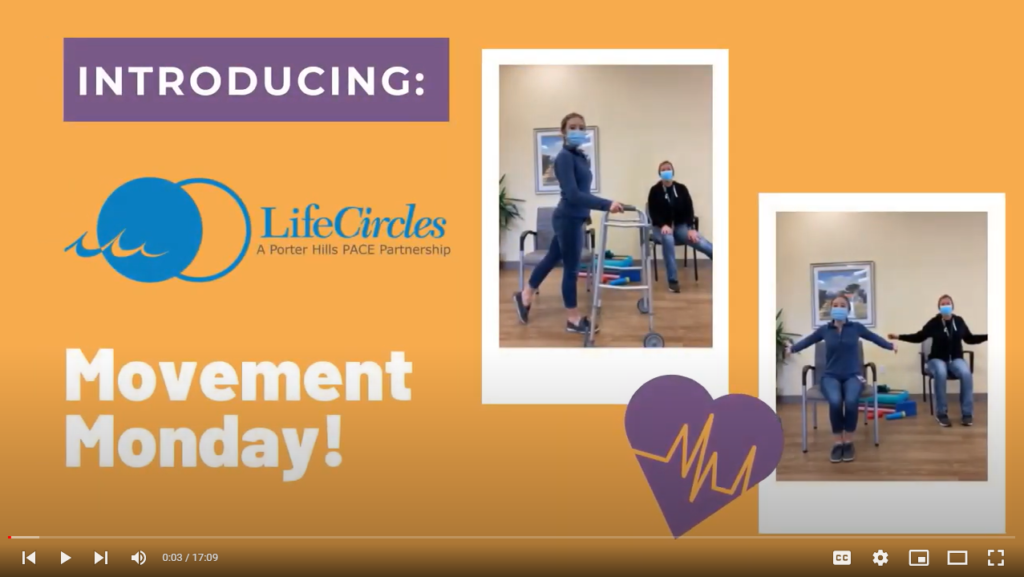 Last Updated on October 31, 2022