Juneteenth is a day that celebrates the end of slavery in the United States.
The day, which became a federal holiday in 2021 celebrates an inherent American value – freedom. Although the end of Civil War and the Emancipation Proclamation ended slavery two and a half years prior, June 19, 1865 was the day that some of the last enslaved people were told they were free.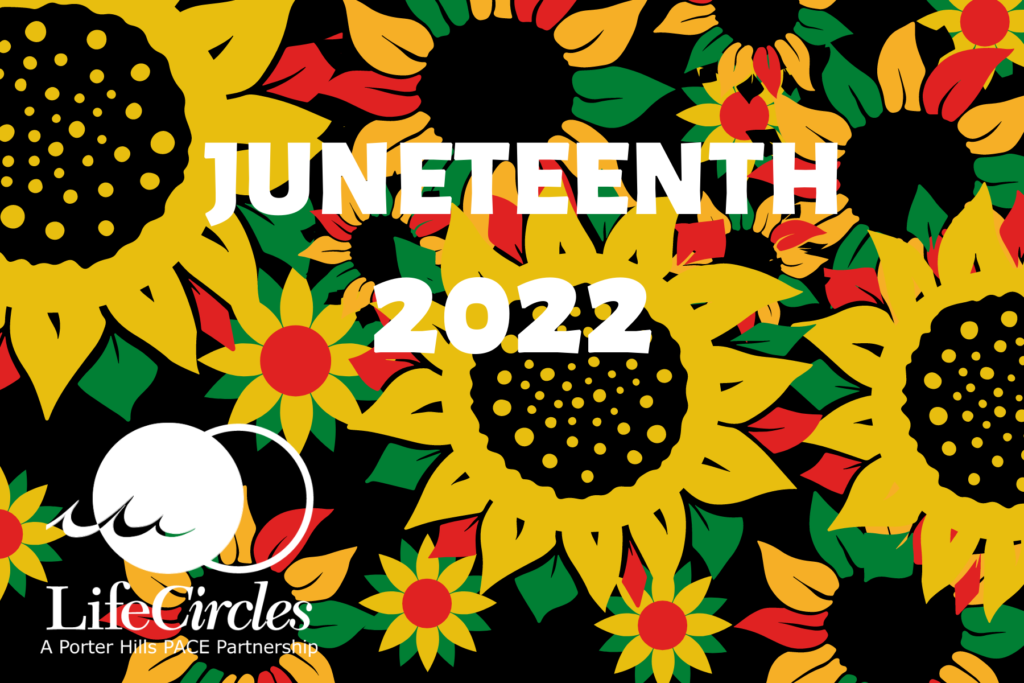 Celebrating the important holiday
LifeCircles will be celebrating Juneteenth over the next few days with our communities, our team and participants. You can find us dancing at Muskegon Heights' Juneteenth Celebration at Mona Lake Park on Friday, June 17th from 5-10PM, celebrating with Muskegon Rotary and community members for some family fun. Members of our team will also be at the Juneteenth Freedom Festival at Kollen Park in Holland from 3-7pm, again enjoying family activities, music, and shopping Black businesses. On Monday our team will be honoring the day with our participants at our centers with information and celebration.
More work ahead
Though Juneteenth is a day that celebrates the end of slavery in the United States, it also is a time to remember that even though some progress has been made in terms of freedom and equality – more work must be done. Racism continues to impact our world and our community. Racism and inequity are threats to public health. As an organization that provides accessible and value-based care to our community's most vulnerable, we will not stand for inequality, injustice, or discrimination.
Health Equity as a core PACE value
Poverty, which often stems from racism, worsens our public health crises. Racism and poverty restrict access to the resources and opportunities required for a healthy life. Black Americans and other communities of color live sicker and die at a younger age than white American counter parts. Black Michiganders experience injustices which accumulate throughout their lives and can change the health outcomes of Black older adults. There are many studies which bear this out. Racial inequities are evident in the final years of life for older adults, affecting every system in the body. Disparity in the treatment of black people and other persons of color within traditional health care has taken a toll, a toll that our team members have seen with their own eyes.
LifeCircles stands for inclusion and equality – both in our teams and for those we serve. Our LifeCircles family includes many people of color, and diverse backgrounds. Our family has lived through injustices, large and small. Our stories, and the suffering we experience and witness because of the trauma, stand as reminders, of why we must work to dismantle racism in all its forms. The LifeCircles family will not tolerate injustice, discrimination, or racism.
West Michigan continues to live through tragic and heartbreaking events that are rooted in racism. The recent tragic shooting death of Patrick Lyoya was disturbing and heartbreaking. What happened on April 4 in Grand Rapids shows that our state, like much of the country, has work to do in addressing systemic racism. Although this particular event has garnered national attention, we are aware that there are acts of violence in our communities that both directly and indirectly impact our team, and participant lives every day. LifeCircles wants to express our condolences and mourning for all individuals who share feelings of fear and anger at another Black community member losing their life unnecessarily. LifeCircles is committed to being a safe place for our staff and participants to experience love and grace in processing difficult topics like racism, bias and injustice.
Moving beyond words at LifeCircles PACE
There has been much heaviness over the past couple of years, LifeCircles' priority is creating an environment that is welcoming to all participants and staff. The work we do at LifeCircles is impactful, and it is important to us that both our participants and our teams reflect the diversity of The Lakeshore. We are committed to doing more than just making a statement from time to time. Representation matters, and we know that we have work to-do on many fronts to enhance and celebrate diversity in its many forms at LifeCircles.
We believe that we all have the capacity to make a positive impact. Some team members are taking part in a collaborative DEI project known as Love Lives at Tanglewood Park. Staff of LifeCircles, Senior Resources and AgeWell Services (all agencies based in Tanglewood Park) are involved in a learning group that focuses on understanding and empathy of various forms of discrimination, challenges and barriers faced by older adults. We thank the Community Foundation for Muskegon County for its support of this project. Please look for more information about what we are actively doing to make LifeCircles an organization that embraces persons from all walks of life and offers meaningful opportunities to learn from and expand our understanding of one another's experiences.
PACE programs have long been seen as the gold standard of senior care – providing quality, comprehensive care to persons who may have been underserved by the health care system in the past. In fact, we've heard from several of our participant's that they've never had better health care in all their life. Our program deeply values quality of life and will continue to work to improve our community's rich diversity. We know that living in the community, and knowing and appreciating those in it, enhance quality of life for everyone.
Interested in more reading on health disparities? Here are some places to start:
Want to know more about Juneteenth?
Wilson Center Statement on Juneteenth
Juneteenth – The History of a New Holiday
Want to know more about Health Disparities and Health Equity?
KFF – Formerly the Kaiser Family Foundation
Last Updated on June 17, 2022