What is it?

According to Teepa Snow – an occupational therapist focused on shedding a positive light on dementia, it starts with rewiring our perceptions, actions, and responses. To do this, Snow created the Positive Approach to Care (PAC) Program used by LifeCircles team members, participant family members, and local care partners. The Michigan Health Endowment Fund awarded LifeCircles a Community Health Impact grant to fund this training, reduce caregiver burnout, and reduce stigma around dementia. But what exactly is PAC and what does this grant entail?
PAC Program at LifeCircles
The Positive Approach to Care Program collaborates with researchers to offer up-to-date and the best-of-the-best training programs for those with brain change, their loved ones, and care partners. Teepa Snow created PAC to improve how we communicate and provide brain change support. She prides herself on all the hard work and research that goes into ensuring the most recent scientific data behind brain change are being incorporated into the programs. PAC also reminds us that even though there are numerous difficulties living with brain change, that joy can also be found in the journey. Recognizing and appreciating these moments can help reduce stigma around dementia.
PAC is about improving the way we think and talk about dementia. At its core, the program sets out to change perceptions of brain change and teach the best practices to assist those affected by it. Some PAC services include dementia training courses, certifications, webinars, and different events for all those affected by brain change to attend. Through this program, caregivers and care partners learn specific PAC skills catered towards making those going through brain change feel more comfortable, understood, and supported.
A positive approach to care involves supporting those living with brain change in a more positive and respectful way. A great first step can include adjusting the language you use when discussing brain change. Actively taking steps to educate yourself the difference between Alzheimer's and Dementia, for example, is a way to increase your knowledge and speak more precisely about the broader term of dementia, and a specific variety of dementia, Alzheimer's. Another way to reduce any preconceived, biases around brain change in society is to highlight strengths like living in the moment, emotional perception, creativity, problem solving, connection to rhythm, and other skills that exist in individuals living with types of dementias.
The PAC program was built around common brain and functioning changes caused by dementia. These include: changes in vision, hippocampal atrophy, language changes, executive control changes, subcutaneous/fat pad changes, sensory-motor changes and the profusion of affected areas of the brain. Science and lived experience backs up the program, and it has been a major success for thousands of people throughout the world.
Additionally, the program has served as a major success for care partners by reducing stress and feelings of burnout. This is done by better equipping folks with vital information regarding how to best partner with those living with brain change, making their work more effective and comfortable for everyone involved.
Community Health Impact Grant
Now that everyone's on the same page with how incredible PAC is, it's even more exciting to share that LifeCircles was graciously awarded $100,000 from the Community Health Impact Grant to increase dementia training and reduce caregiver burnout through the PAC Program!
This grant is given through the Michigan Health Endowment Fund whose mission to improve the health and wellness of those residing in Michigan by reducing their healthcare costs. The organization specifically focuses on children and seniors to help build stronger, healthier communities across our state of Michigan. A grant like this one helped us at LifeCircles to launch our PAC program to educate our team members, our extended community members, and to provide customized brain change supports to LifeCircles PACE members and their care partners. This grant allowed us to provide exceptional care to those living with brain change and promote that aging in place is possible for all types of families.
The financial support not only assisted in improving the quality of life for our participants living with brain change, but has helped us to empower our care partners and family members through increased awareness of approaching care in a more positive way, and with many more tools. Under the PAC Program, caregivers and families will practice new hands-on skills to provide the most appropriate care for those who deserve it the most.
Sharing our Expertise with the Community
Since our PAC work started in 2020 our team has been busy educating other community groups, first responders, and health professionals about positive approaches to brain change. Our Dementia Specialists, Jennifer Haak, LBSW and Amber Drooger, LMSW recently educated Holland Hospital's Security Services team on de-escalating difficult situations for folks living with brain change while hospitalized. Our team uses research, humor and simulations to help professionals walk away with new tools they can use immediately after the session.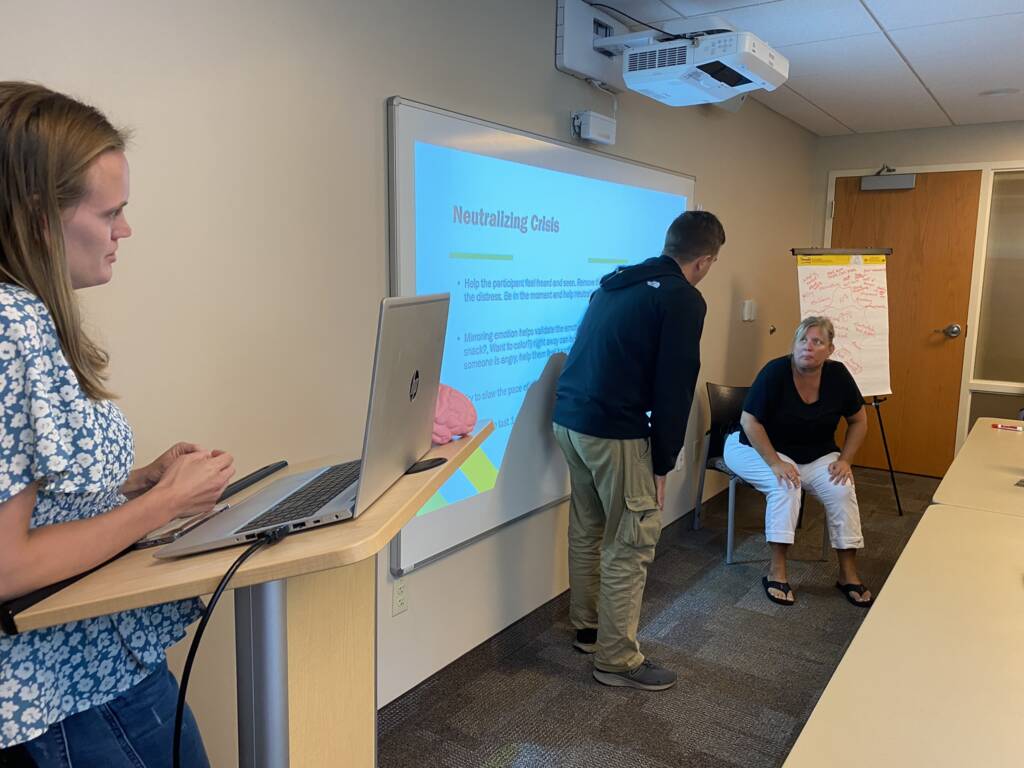 Our PAC team has also worked with HealthWest and Muskegon County law enforcement to aid in de-escalation training with folks living with brain changing conditions. Check out our press coverage to learn more about our work sharing positive approaches. We were interviewed by Shelley Irwin at WGVU and we were also featured in an MLive article by Bradley Mossman.

We're proud of our Positive Approach to Change work at LifeCircles and look forward to even more opportunities to share our knowledge in the future. We cannot express our gratitude enough to the United Methodist Retirement Communities – Porter Hills Foundation who secured the grant for LifeCircles PACE. Ultimately, brain change impacts many people either directly, or through a close connection. Memory care and brain change knowledge is necessary and requires unique skills and tools, but fortunately experts are available to help you throughout The Lakeshore. If you know anyone who could use brain change education, please contact us. We love sending our brain change experts to hospitals, clinics, police stations and more to help our greater West Michigan community be more brain change friendly. We are here for you.

Last Updated on October 3, 2023