Have you ever heard of the PACE program for seniors? If your answer is no, you are like most Americans. Though not widely known, PACE programs have been delivering total health and social care programs to frail seniors as an alternative to nursing home living for over 40 years.
The COVID-19 Pandemic has been especially savage in congregate living sites where many frail seniors live. Nearly 35% of all COVID-related deaths in the U.S. have occurred in nursing homes according to the New York Times. [i] COVID appears to be the most dangerous to adults 60+ who live with underlying health conditions. In contrast, PACE participants, who are as frail as their nursing home counterparts, have died at one-third of the rate of nursing home residents, according to the National PACE Association (NPA). [ii]The rate of positive COVID cases among PACE participants is also one-third of the rate for nursing home residents. Several factors have made PACE programs a safer alternative to traditional nursing home living: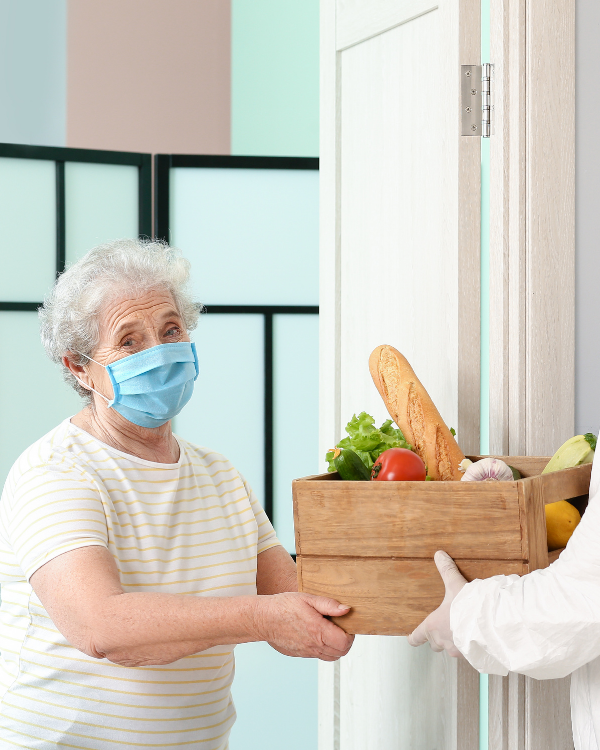 Most seniors in PACE live in their own family home or apartment, rather than living closely with many other frail seniors.
PACE has been able to strategically provide in home care givers in way that reduces the number of individuals who come in contact with the senior, while still providing needed support.
Medical care, therapies and socialization has been delivered via telehealth where possible, and directly in homes with extensive safety protocols.
Work is done to prevent little issues from spiraling into bigger issues that may lead to hospitalization.
Skilled professionals are encouraged to think creatively, and provide the "right tools at the right time" to help seniors proactively maintain their independence.
West Michigan's lakeshore has had a PACE program since 2009. LifeCircles PACE helps seniors with complex chronic health needs age in their homes with supportive services, health care, socialization, equipment, and more. "PACE programs are a win-win-win for our communities," says Luke Reynolds, Executive Director at LifeCircles PACE, "seniors who don't want to move into a facility get to stay home, family members and caregivers get much needed support, and the programs cost taxpayers less than nursing home care." LifeCircles operates adult day health centers in Muskegon and Holland and serves seniors who live in Muskegon, Ottawa, and Allegan Counties.
PACE programs are lifelines that enable frail older Americans to live at home instead of in a nursing facility; 95% of participants live safely in the community. PACE is a fully integrated, highly-coordinated, person-centered model of medical and social care. According to an AARP survey, 86% of people 65+ want to age in their current homes.
Currently, 31 states have PACE programs, which serve more than 55,000 people age 55 and over and who meet their state's criteria for receiving nursing home care. Though PACE programs have high participant and caregiver satisfaction rates, they are not widely known and serve approximately 1 in 10 of those that could benefit from their care. "I've witnessed firsthand the difference that PACE can make in the lives of seniors and their care partners, I wish more people knew about the program's services, especially in the wake of the COVID pandemic" said Dr. Iris Boettcher, Medical Director at LifeCircles PACE. Anyone can refer someone to LifeCircles by calling 231-733-8686 or 616-582-3100.
PACE was proven safer and more cost-effective than traditional nursing homes even before the pandemic:
PACE works with financial incentives to prevent duplicative or unnecessary services while having the freedom to quickly supply the services and interventions that are the most effective without waiting on outside insurance authorizations. Care decisions are assessed and approved through a local team of providers working in close consultation with the participants and their families. This model empowers the PACE program to achieve better care, more effective caregiver support, improved patient experience, and lower costs.
Seniors in the program typically see lower out-of-pocket medical costs and have no Medicare or Medicaid deductibles or copayment.
Better care leads to lower costs:

13% lower cost for state Medicaid programs, comparable Medicare costs

Decreased rehospitalization: 16% less than the national rehospitalization rate of 22.9% for dually eligible beneficiaries age 65 and over[v]

Fewer nursing home admissions: despite all participants being eligible to live in a nursing home [viii]

PACE participants have fewer unmet needs and receive better preventive care, specifically concerning hearing and vision screenings, than seniors in the community. [ix]
---
[i] More Than One-Third of U.S. Coronavirus Deaths Are Linked to Nursing Homes
https://www.nytimes.com/interactive/2020/us/coronavirus-nursing-homes.html, retrieved 2/19/2020

[ii] NPA COVID-19 positive case and fatality data reported weekly by PACE organizations, April 2020-February 2021.

[iii] NPA Analysis of PACE Upper Payment Limits and Capitation Rates, March 2017.

[iv] Mathematica Policy Research. (2014). _e E_ect of PACE on Costs, Nursing Home Admissions and Mortality: 2006-2011. Evaluation prepared for U.S. Department of Health and Human Services, O_ce of the Assistant Secretary for Planning and Evaluation, O_ce of Disability, Aging and Long-Term Care Policy.

[v] Segelman, M., Szydlowski, J., Kinosian, B., et al. (2014). Hospitalizations in the Program of All-Inclusive Care for the Elderly. Journal of the American

Geriatrics Society, 62: 320-24.

[vi] Division of Health Care Finance and Policy, Executive O_ce of Elder A_airs. (2005). PACE Evaluation Summary. Accessed online on May 25, 2011.

[vii] Kane, R.L., Homyak, P., Bershadsky, B., et al. (2006). Variations on a theme called PACE. Journal of Gerontology Series A, 61 (7): 689-93.

[viii] Friedman, S., Steinwachs, D., Rathouz, P., et al. (2005). Characteristics predicting nursing home admission in the Program of All-Inclusive Care for Elderly People. Gerontologist (2009). 45 (2): 157-66.

[ix] Leavitt, M. (2009). Interim report to Congress. _e quality and cost of the Program of All-Inclusive Care for the Elderly. Mathematica Policy Research evaluation prepared for the Secretary of the U.S. Department of Health and Human Services for submission to Congress.

Last Updated on November 18, 2021